The Family Deluxe rooms are the ideal choice for families of up to 4 people, in 2 beautiful divided rooms. They are located in the new building, among the enchanting gardens and the brand-new swimming pool. All Family Deluxe rooms have been carefully designed and offer every comfort. The rooms are modern, with warm, soft hues and wooden furniture, while offering all modern amenities for a relaxed family stay.

All rooms have been fully renovated. They feature wonderful, bright colors and luxurious furniture. A sofa bed is also available. Of course, additional services are also provided, including a mini bar and more.

Air Conditioning

Shower/WC

Hairdryer

Telephone

Mini fridge

Satellite TV

Balcony

Wake-up call service

Clothes Drying Racks

Divider down the middle of the room / Living room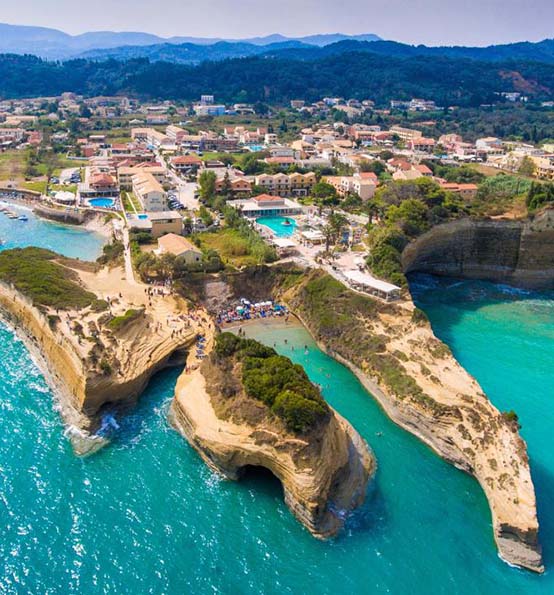 Foreigners call Corfu a corruption of its Byzantine name Koryfo (peak), after one of the two peaks which visitors see as they approach the island.
The highest peaks are those of mount Pantokrator (ancient Istoni, 914 m) and Stravoskiadi (849 m). Agnos – Roda is located on the island's northern part, facing the island of Ereikoussa.
Nestled along the picturesque coastline of Sidari, Corfu, lies the enchanting and romantic Canal d'Amour. This natural wonder, a series of small coves and unique rock formations, has been a beloved destination for lovers and explorers for generations. The name "Canal of Love" reflects the charming legend that swimming through the narrow channel will bring eternal love and happiness.